Water Summit
2018 Water Summit
2018 Innovators Water Summit
Innovators High Desert Water Summit "Rethinking Water"
February 2, 2018
Speaker Presentations:
Bryce Dettorre "Stay M.A.D. by Not Listening to Your B.S."
Alaina Tess – Student Essay Winner
Logan Olds "How to Create a Career Out of Wastemaster"
Joel Greene "Curiosity Quest Problem Solvers Awards"
This event was recorded. To view the entire event, please watch the Innovators High Desert Water Summit 2018 video. To meet the winning student essay finalists, watch the "Meet the Finalists" recording, below.
2019 Water Summit
2019 Innovators Water Summit
Innovators High Desert Water Summit "How Generation Z Will Save the Future of Water in California"
February 8, 2019
Speaker Presentations:
Nicholas Chow "Water in a Warmer World"
Michelle Reed "Exploration of Wastemaster"
Gavin Copeland Student Essay Winner
Joel Greene Curiosity Quest Problem Solvers Awards
To watch this year's featured speakers, please see the video below titled "2019 Innovators High Desert Water Summit." Also learn more about our student essay finalists in the "Meet the Finalists" recording.
2020 Water Summit
2020 Innovators Water Summit
Students Shine at the 2020 Innovators High Desert Water Summit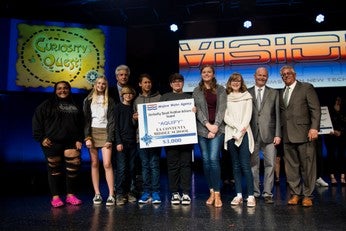 More than 270 middle and high school students and their teachers gathered February 14 in Victorville for a half-day program aimed at inspiring the next generation to take up current water challenges. Featured at the summit were some of the region's best and brightest students, including essay winner Leslie Tello and the La Contenta Middle School that earned first place in the annual Problem Solvers competition.
The summit hosted by Mojave Water Agency was held at the High Desert Church campus. It featured water experts, career panels, student presenters, and more. Apple Valley Chamber of Commerce and High Desert Church co-hosted this year's event. Sponsors included Liberty Utilities, Kennedy Jenks, Golden State Water Company, Toro, the County of San Bernardino Special Districts Department, Rain Bird, and Altec Engineering.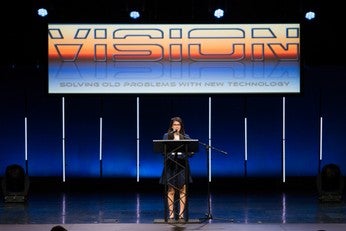 Among the speakers was Leslie Tello, a junior at University Prep in Victorville. Tello received a $3,000 scholarship for her winning essay titled, The Grass is not Always Greener. The essay focused on lifestyle changes to help ensure a sustainable water supply for the desert region. Taking the two runner-up positions and each receiving a $1,000 scholarship were Nuria Cambre from the Academy of Careers and Explorations and Benjamin Sowards from Victor Valley High School.
Charged with creating new water saving technology, five regional schools competed for the top prize in the Problem Solvers competition that is aired on PBS. La Contenta Middle School, located in Yucca Valley, took tops honors and a $3,000 scholarship for their school. The middle school team invented a device to track water consumption through sensors and relays real-time information to a smart phone app. Earning the runner-up positions and a $1,000 scholarship for their inventions were Oaks Hills High School and Apple Valley High School. Other competing teams included Sultana High School and Melva Davis Academy of Excellence.
The day also featured water experts E. Joaquin Esquivel, State Water Resources Control Board Chair, and Cástulo R. Estrada, Vice President on the Board of Directors for the Coachella Valley District.
2022 Water Summit
2022 Innovators Water Summit
Innovators Water Summit returns in February
Victorville, CA — How do we save our big blue world? One student at a time! That is the purpose and theme of the Innovators High Desert Water Summit that returns to the Victor Valley on February 25.
"From conservation to potential job options, this signature event offers many opportunities for our region's bright young students to engage and learn more about the water industry," said Mojave Agency Board President Jim Ventura. "Although the summit is ideal for science, technology, engineering and math (STEM) oriented students, we encourage any of our middle school and high school youth to attend."
This free event is the culmination of three components offered to students to immerse themselves in the world of water
Problem Solver's Competition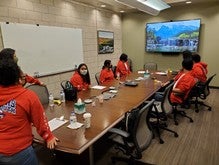 In a collaboration with the PBS Show Curiosity Quest, the MWA challenges teams of middle school and high school students to solve a real-world problem for a chance to win a scholarship of up to $3,000 for their school.
This year's competing teams hail from Melva Davis Academy of Excellence, Oak Hills High School and Options for Youth in Victorville. They met with water industry experts in October to learn about how state and federal water quality regulations don't apply to domestic well owners.
They were then sent off to develop a system, management solution or series of standards that domestic well owners can use to ensure they are drinking safe and economically affordable water.
The teams will present their solutions to a panel of judges on November 15. The winning team will be announced at the Water Summit on Feb. 25 and the competition will be featured on the PBS show Curiosity Quest.
Annual Essay Competition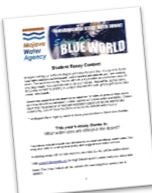 Mojave Water Agency is seeking essays between 550 and 900 words for this year's contest that poses the question: "What water uses are ethical in the desert?"The winning essay should convey the writer's philosophy on how one of our most precious resources should and should not be used in our dry region.
The contest is open to High School students enrolled at schools (or home schooled residents) within the Mojave Water Agency boundaries.
The top three finalists will advance in the competition and be paired with a mentor to polish their entry for a verbal presentation in front of a panel on Jan. 25 at 5 p.m. The winner will present their essay at the Water Summit on Feb. 25.
Click here to download the complete rules and competition schedule.
Click here for a video about the essay question.
Innovators High Desert Water Summit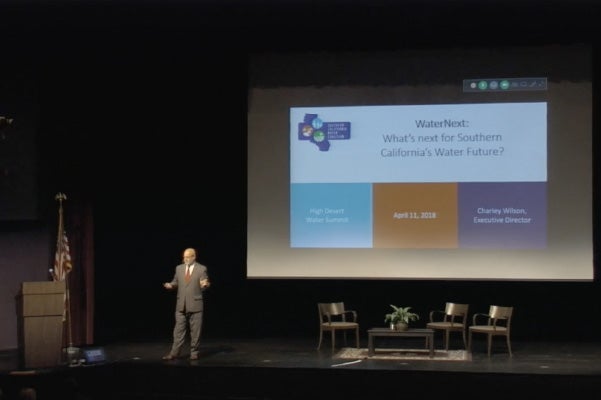 Showcasing months of planning, research, writing and mentoring, the Innovators High Desert Water Summit will gather the region's brightest young minds for a day of water education.
Students will view a screening of the documentary "Brave Blue World," participate in small group discussions, hear from water industry leaders, listen to this year's winning essay, and find out which school won the Problem Solver's contest.
This free event is open to all middle and high school students within the Mojave Water Agency boundaries. Lunch is provided. For more information, or to attend, contact Arlynn Caasi at (760) 946-7025 or acaasi@mojavewater.org.
For additional information about each component of the event, please see below. Classes or individuals who would like to attend should contact Arlynn Caasi at (760) 946-7025 or email acaasi@mojavewater.org.